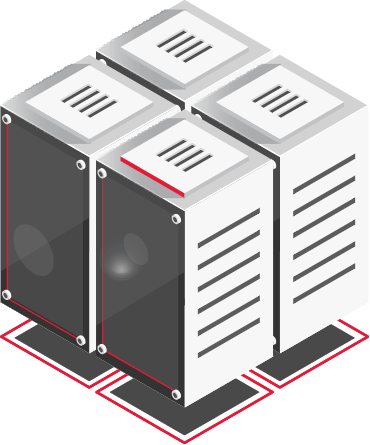 Colocation
Flexibility, efficiency, and security for your business.
ADR Authorization for
Electronic Archiving
1,000,000 EUR
compensation insurance
150 organizations
using services
from the Datacenter
Keep your servers in a suitable space.
Avoid hundreds of thousands of euros in investments in air conditioning systems, diesel generators, automation, access control and video surveillance systems, electrical circuits, and antistatic protections.
Stay connected with your equipment through multiple options.
You can choose any access service provider, with connection to the location perimeter. You can use Layer 2 connections, Dark Fiber, or even configure a VPN with your location.
Benefit from dismantling, transport and installation operations.
We provide hardware warranty for the colocated equipment, regardless of who they are purchased from. In addition, we even offer you the accessories you need for your equipment.
We are the
EXPERTS


you need

We are IT specialists with a wide range of services adjacent to colocation. We also offer complementary services to colocation, from planning to ensuring connectivity. You can rely on our technical skills and availability to find the right solution for your business.
OUR ASSETS
Uninterrupted operation, increased security & resilience
Discover here the technical details of our datacenter and convince yourself that it's the most suitable space for your critical systems. Your company deserves a secure future.
Absolutely honest contractual terms
There are no special or separate rates for datacenter access, installation of new equipment or dismantling of existing ones. Interconnect/cross-connect services are free. Electricity is metered, and the price is set by contract.
Long-term partnerships
Over 100 companies and institutions have chosen our services, running the most critical applications in our datacenter. Companies from the medical, industrial, financial, or public sector - are just a few of the valuable references that recommend us.
Replication options
Our own location, situated 10 km away, allows us to replicate the data hosted by us. We understand public clouds, and if Azure or AWS is your preference, we will easily manage the interconnection process. We are also willing to use other datacenters within Romania.
Easy management of colocated equipment
You have the option of Remote Hands to carry out hardware operations according to your instructions, without having to travel. We can also take over hardware support and warranty services, which guarantee you the necessary spare parts for the colocated equipment.
Complete datacenter solutions
It's easy for us to offer you solutions complementary to colocation. You might need additional storage space, or a firewall solution, or email security. Expanding your resources can be done at any time, even by connecting with our platform.
Why Choose Us
We manage resources correctly and meet proposed deadlines. Always. Without compromises.
We take on all responsibilities of an equipment relocation project, managing unforeseen complications effectively.
For over 18 years, we have exclusively provided IT services, being one of the pioneering companies in Romania that has developed a service-first approach.
You can visit our Datacenter to learn more about how we work and to find the best approach for your business together.
We are a team of certified professionals in the utilized technologies, providing top expertise and customized solutions for your company.
We have over 100 clients for whom we manage thousands of servers, routers, switches, storage equipment, backup systems, VPN, and wireless networks based on SLAs.
Request a cost simulation now!