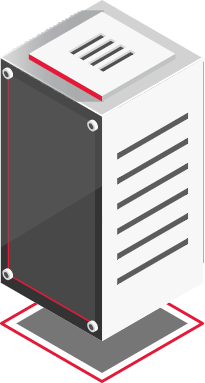 Backup. Business Continuity.
Protecting data means much more than copying it to another device. OffSite Backup and Business Continuity policy are among the most audited elements. With impeccable processes, you ensure the continuity and validation of your own business.
Protect the most critical data
Ransomware attacks, hardware failures, or improper data handling, whether intentional or not, can endanger the continuity of your business. By automatically saving your data in a secure and high-performance datacenter, you avoid exposure to such risks.
Maintain data confidentiality
Files are transmitted through secure channels and can be encrypted before leaving your organization. You are the only one who can decrypt them. Benefit from the security of Backup services, complying with any security standard.
Ensure the consistency of the process
Backup is an easy process. However, restoration can be difficult. Not for our specialists. We check all replications daily, keep multiple versions of data and guarantee the restore process. We can even provide you with equipment to do this.
We are the
EXPERTS


you need

While using such an application is simple enough, structuring the Backup/Business Continuity process must take into account integration with source operating systems, storage platforms, data modification rate, transmission latencies, compression and deduplication processing, the effect on device performance, all included in a coherent set of procedures.
Distinguished in the Romanian market by:
Top Technology
We use Veeam Backup and Replication technology, the global #1 provider of data protection solutions, according to Gartner's classification for the last 6 years. We completely cover all critical applications for you, wherever they are located.
Extremely Efficient Process
We can use deduplication, compression, and WAN acceleration technologies. The datacenter uses metropolitan and national connections to over 98% of organizations in Romania, which means very fast copying, minimal system impact, and reduced cost.
Maintaining Data Ownership
Your data is your data, and we understand this aspect. You have the option to encrypt the data before it leaves your infrastructure. The communication channel is anyway protected and encrypted through digital certificates.
Process Control
You have full control in administering the contracted service. You decide what data is transmitted, how often, how much is kept, when the process starts and when it ends. We provide you with the necessary licenses, or you can use your own.
Complementary Services
Sending data to your location, on our devices, to facilitate restoration operations.
Testing data consistency several times a year or simulating a fail-over to our datacenter.
Keeping your data in two different data centers, for an even higher level of security.

The option of immutability,

especially for protection against ransomware.
Architecture of the solution used
Turn OffSite Backup into a Business Continuity solution
Efficient, scheduled, validated, and secure data copying to an external location is just an intermediate step towards a Business Continuity solution. It can ensure data restoration within a certain time frame (days or weeks, depending on the incident).
A
Business Continuity

solution additionally answers these questions:
Where will I restore the data, if my main servers are compromised? How long does this process take?
How will my users access the data, if they are working from a different location?
Will changes at the application level be necessary to operate under these conditions? How long does this take and who does it?
How will my security measures work? Will access segmentation and change auditing continue?
Are there policies and procedures for this type of incident?
When was the last time you tested your backup solution or

Business Continuity

plan?
The good news is that technological advances have made Business Continuity solutions much more accessible than they were 5 years ago. Let's do this together!
Contact us for a cost simulation!